Monday Memo – November 5th, 2018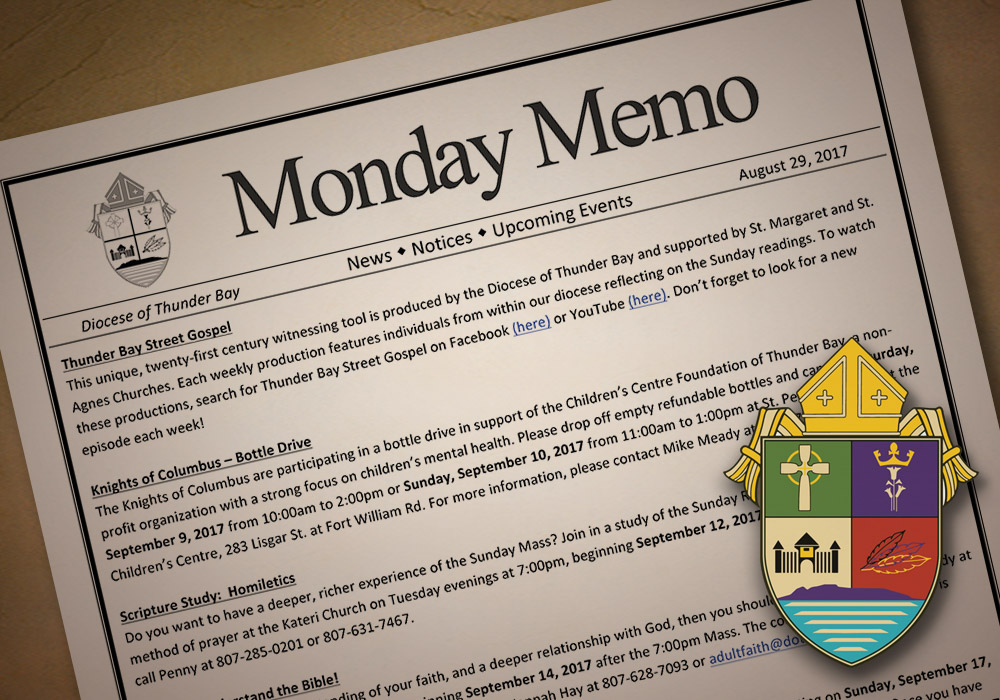 Read about the Mission to Seafarers, 33 Days to Morning Glory TONIGHT, and more!
This weeks Monday Memo for November 5th, 2018 includes the following:
Fifty-Fifty Draw – Draw Date: Monday, November 12, 2018
The Mission to Searfarers: Christmas Gift Bags
33 Days to Morning Glory TONIGHT – please note the change of venue
Safe Environment Workshop
Msgr. Stilla's Fall Bible Series
Candy Cane Christmas Tea and Bazaar
2-Bit Auction
Takeout Supper – Spaghetti and Meatballs: Please remember to bring your own containers!
Feast of St. Andrew
Prepare the Way – the Lord is Coming: SAVE THE DATES
The Monday Memo Publication
The Monday Memo is published every Monday from September through June. If you would like to receive it in your inbox every week, please send a request by email to chancery@dotb.ca.
If you have an announcement that you would like to have published in the Memo, please send it to chancery@dotb.ca for consideration in the next Memo. The deadline for announcements is Friday at noon for the following Monday Memo.