Monday Memo – October 10th, 2017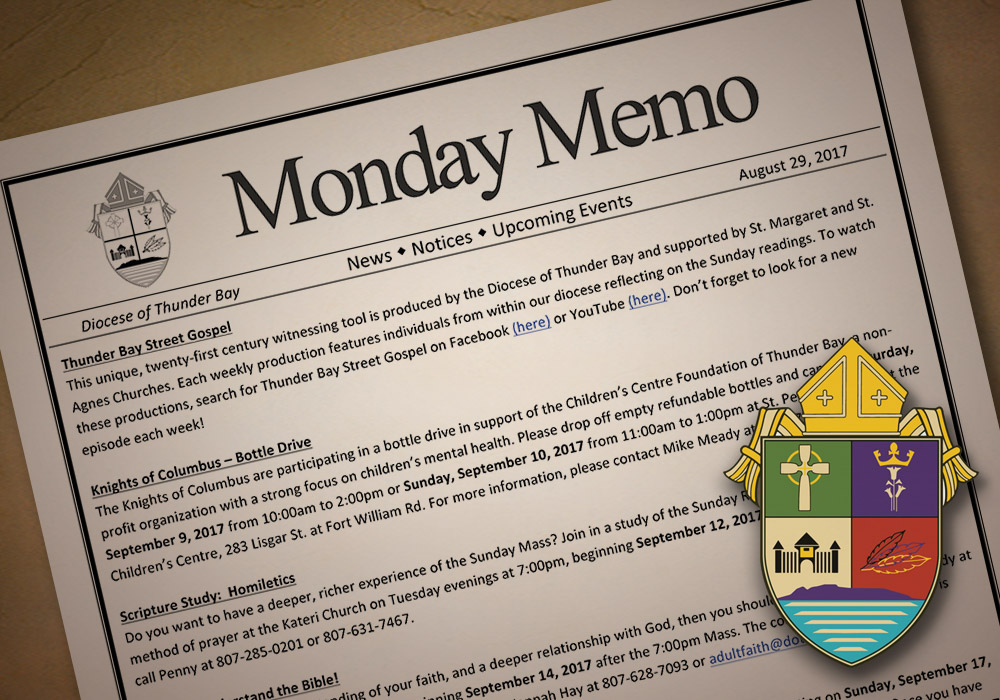 Read more about Celebrating Our Lady of Fatima, a Night of Renewal with Chris Bray, and more!

This weeks Monday Memo for October 2nd, 2017 includes the following:
Hear the bells ringing …
Thunder Bay Streel Gospel
Celebrating Our Lady of Fatima
St. Augustine's Altar Society Thanksgiving Tea
Pickeral Fish Dinner
Annual Fall Bazaar
St. Margaret Annual Harvest Bazaar
Night of Renewal with Chris Bray
Takeout Supper – Spaghetti and Meatballs
St. Agnes Parish Gold Bazaar
The Monday Memo Publication
The Monday Memo is published every Monday from September through June. If you would like to receive it in your inbox every week, please send a request by email to chancery@dotb.ca.
If you have an announcement that you would like to have published in the Memo, please send it to chancery@dotb.ca for consideration in the next Memo. The deadline for announcements is Friday at noon for the following Monday Memo.